S 2, Ep 11 (2 eps in 1!) | 'Shrill,' 'Catastrophe,' 'The Good Fight,' 'The Deuce,' & Apple+
Scott and Josh talk: Shrill, Catastrophe, Manhunt, The Good Fight, Battlestar Galactica, Treme, Formula One, The Deuce, VEEP and Barry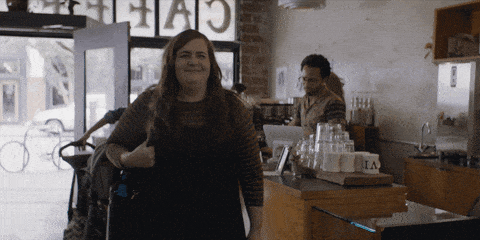 Aidy Bryant leaves you wanting more episodes of 'Shrill'
2 episodes in 1! On the back end, Scott and Josh discuss the Apple's presentation to unveil their new streaming service APPLE +.
Scott and Josh agree with most of the NY Times list of best television shows since 'The Sopranos,' but can't believe 'Six Feet Under' did not make the list—wake up people! HBO's 'The Inventor; Out for Blood in Silicon Valley, Josh does not like documentaries, 'Free Solo' now streaming on Hulu, Josh goes dark asking Scott when he thinks Alex Honnold will die... Josh's Watching: 'Shrill | Hulu' + 'Catastrophe | Prime Video'… Scott's Watching 'Manhunt | Acorn' + 'The Good Fight,' talk Martin Clunes, is anybody watching The Goof Fight?… Josh's Show to Revisit; 'Formula One' | Netflix… Scott's Show Revisiting; 'The Deuce' | HBO… Scott is kicking himself and asking why he stopped on The Deuce, Scott can't wait for the 3rd and final season, the VCR and spanking at home will be a major storyline in season 3… Josh's Classic Recommendation; Battlestar Galactica | Hulu, the early days of streaming in raining Seattle… Scott's Classic Recommendation; 'Treme' | HBO GO, Prime Video, the cleanliness of HBO GO compared to Netflix which has become a bit of a wasteland… Josh is Excited About; 'VEEP' | HBO… Scott is Excited About, 'Barry,' the greatness of NoHo Hank, Henry Winkler's rebirth!, 'Boomerang' the movie, Eddie Murphy, Scott's special shoutout to the tv series 'Boomerang' on BET, 'Silk Stalkings' now on Prime Video, back in the day: CBS Late Night Movie///////47:30 Scott's Intro to Apple + launch, 52:00 Scott and Josh talk Apple, the new streaming service, Apple News subscription, Apple Arcade, Steven Spielberg, Richard Gere, Hailee Steinfeld as Emily Dickinson, Showtime's 'Action,' Scott talks about filming 'The Best of It' and how quickly things have changed in the gambling industry since the release of Eberly's film, Oprah bringing her book club, culture clash, Jennifer Garner, Josh is yawning, The OA, Scott is pushing 'Billions' to the center of the table, 'The Good Fight' felt like it's trying too hard in ep 2, Scott loves Shrill, Scott tells a Keifer Sutherland story about helping to carry his ex out a restaurant, The Dresden remains the last club still around from the movie 'Swingers,' 'Liquid Kitty,' More excited; 'Barry' or 'Veep?' Josh is living' large with 'Crime Story' streaming on Prime Video. Scott and Josh go over the long list of who's who of guest stars on this Michael Mann classic, missing the late Dennis Farina.
COMPANION LINKS
THE SHARKTANK REDEMPTION (200) | Morgan Freeman's son (Alfonso) plays Fred Redding, an assistant at Hollywood agency CMA comes before the board, seeking a promotion, and is refused. He tells us the story of his coworker, Randy Tulane, who didn't just do his time at the agency, but used the system for his own purposes and, ultimately, to help his friend, Fred. Yes! This short is a Shawshank Redemption parody.
SWING BLADE (1997) | Lovable mental patient Karl Childers from "Sling Blade" tries to get a date on the martini-soaked "Swingers" LA club scene. A short parody in the form of a trailer.
CRIME STORY (1986-1988) | The Michael Mann saga of a Chicago police detective's efforts to stop a young hood's ruthless rise in the ranks of organized crime was instrumental in shaping today's prestige crime dramas. The show is finally streaming! It's on Amazon's Prime Video. Nathan Smith from Vulture wrote a nice piece on Crime Story.